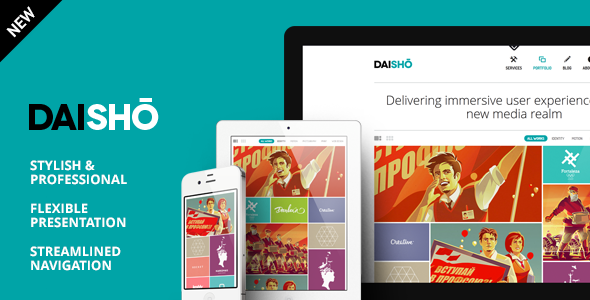 ThemeForest Daisho Flexible WordPress Portfolio Theme 2585124

WordPress Theme \ Creative \ Portfolio
Professional \ Portfolio \ Responsive \ Slideshow \ Video \ Studio \ Photo \ Modern
WordPress Theme - Daisho Flexible WordPress Portfolio Theme 2585124
by Flow @ ThemeForest
WordPress Theme \ Creative \ Portfolio
Last Update: 12 December 12; Columns: 1; Compatible Browsers: IE9, Firefox 2, Firefox 3, Firefox 4, Safari 4, Safari 5, Opera, Chrome; Software Version: WordPress 3.5, WordPress 3.4; Documentation: Well Documented; High Resolution: Yes; Layout: Responsive; ThemeForest Files Included: Layered PSD, CSS Files, JS Files, PHP Files; Widget Ready: Yes.
Daisho is a portfolio solution for creative professionals and companies looking for a minimal and professional look. Flexible and responsive presentation, smooth navigational flow and clutter-free approach. Put your works in focus. Powerful Typography Plugin included. The definitive portfolio solution for creative professionals available now.
Stable Version: 1.9.0.1 (last updated: 12 December 2012, 11:11AM CET)
Auto-Update Server Version: 1.9.0.2 (20 Dec 2012)
Documentation: Daisho WordPress Theme Documentation (last updated: 10 December 2012)
Support .
- Support Forum
- Full Installation & Configuration Video (8:07 minutes)
- Email Support
- Themeforest Comments Support
Demo Versions
- Thumbnail Grid (default)
- Classic Mode (alternative)
Mobile Demo
Major Features
- Portfolio display with category filter
- Two Homepage Modes – Daisho Grid and Classic Homepage
- Featured Slider
- Multi-category projects
- Present Identity, Motion, Web, Print, Photo projects and more!
- YouTube, Vimeo, SoundCloud, HTML5 videos (and more) support
- News section
- About Us section
- Services section
- Our Team section
- Blog
- Ability to create any other pages with custom layouts
- Contact Form
- Social Shares
- Built-in SEO Tools (or compatible with Yoast SEO and All in One SEO Pack)
- Localization Ready (400 Translation Strings)
- WPML Ready
- WPMU Compatible ( test )
- Responsive Behaviors
- iPhone/iPad compatible
Powered by SuperSlide
- Advanced slide manager
- Upload projects quickly & efficiently
- Drag & Drop upload support
- Drag & Drop slide sorting
- Video, Youtube, Vimeo support
The Future is Here
- Responsive behavior on any display
- Adaptive scaling – 300ppi screen support & Apple Retina display support now
- Various input options – control your experience however you like
- Smooth flash-like experience on various platforms
- Adjust any fonts using included powerful Typography Plugin
Other Features
- Unbranded Options Panel
- Automatic image resizing and/or cropping to any size
- Text Logo (+ tagline)
- Image Logo (including SVG logos)
- Extensive documentation + videos
- PSD included
- 100% valid HTML5
- CSS3 animations
- Compatible with WP3.5 and IE9, IE10+, Chrome, Firefox, Safari and Opera
- External links in project and slide descriptions
- Multiple Portfolios Support
What Others Are Saying
Awesome style!
- Merami Nazuka
Just want to tell you that the theme is amazing, this is the best one I've got for Themeforest so far!
- welsh
Hi, I really appreciate all the support you have provided and give a 5* rating on that alone!
- chungadome
Hi, great theme. Super(!)easy customization, good documentation, and a great responsive design. So, congrats, top notch work.
- Mthad1313 Love the design!
- harrybrainbow
Great theme!!!
- martijnvanosch
AWESOME design! I saw this in your coming soon, and have been really looking forward to see what it looked like live.
- acquaphoto
Anyone wondering what the support is like – it's GREAT , Flow went extra 10 miles to sort out my problem!
- merdesign
Man, some fresh air on themeforest… Amazing
- volumens
Flow, I have to say that you are VERY PROFESSIONAL , CREATIVE, AND INNOVATIVE … You are definitely the INFLUENT WP Creative/Developer that I consider to follow very closely! CONGRATS ! Your theme is bookmarked! Don't worry I will buy Konzept and Daisho for upcoming bulding projects
- westkast
OMG !!! I LUV IT !!!! I bought it and I don't even know what I am going to use it for. Had to have it. GREAT WORK !!!!!!!
- successmatters
Damn!! love the concept!!! awesome work dude
- pxoutline
Totally loving this, excellent creative thinking made into a portfolio!
- divwrap
Awesome work! GLWS Flow!
- csspress
Wow !! come on man, your theme is great !!!! I need to buy a new template for my own website and yours is perfect !
- MusicPremium
Love the theme!! Even though I am not looking for a portfolio theme, I might choose this one.
- tomdekok
Amazing! Love your sense for typography and creative thinking.
- renenekuda
Just wanted to say that this theme does rock and I appreciate all of the help that you have given on your help forum. I got it working just the way I want it. That needs to be said, because too many theme authors give bad service. I always check the comments before I buy anything to see how the designers respond to questions, and you have been consistently helpful and anyone thinking of buying this theme should know that.
- eborg9
I cannot let another minute go by without noting how incredible your support is, both here (which truly, you do NOT need to do) and especially on your dedicated support forum. The theme ROCKS but is definitely made even better by your comprehensive support. In just a day or two, I'm almost fully finished pulling together my new profile/portfolio site. You've earned yourself a very dedicated fan, Flow.
- jillsessa
Showcase
See how others are using Daisho . Have a portfolio site running Daisho ? Send us a link and get featured!
- Maui Ad Men – http://www.letgoandlead.com/
- Fulltilt Ventures – http://www.fulltiltventures.com/
- Studio Kreacja – http://www.studiokreacja.pl/
- Sichtfeld – http://www.sichtfeld.ch/kreativagentur_v2/portfolio/
- Monogum Creative – http://www.monogum.com/
- Design Dukkan – http://designdukkan.com/
- GDesign – http://www.gdesign.me/
- Creative Design – http://rscreativedesign.com/
- Good-Factory – http://www.good-factory.com/
- i2iGroup – http://i2igroup.net/i2idev/
- Rega Interactive – http://regainteractive.com/
- AbigTrailer – http://abigtrailer.com/
- Jakub Kuvik – http://www.jakubkuvik.com/
- DJ Manuel el Chino – http://www.djmanuelchino.com/remixes/
- helt til hest – http://helt-til-hest.dk/
- Namu Williams – http://namuwilliams.com/
- Alejandro Gallego – http://www.alejandrogallego.net/
- Chris Burge – http://www.chrisburge.com
- Appfy – http://www.appfy.com/
Need Support?
If you need support, all support requests should be posted on our support forum ( http://support.forcg.com ). We will usually get back to you within 24-72hours. Complex issues may take longer up to 1 week. We do not reply to emails.
Trial
Since December 21, 2012 14-days free Daisho trial website is available.
Updates
=== 1.9.0.2 (20 December 2012, 13:56 CET) ===
Added: Blog posts now support videos and custom code as thumbnails.
Fixed: Search template margin below title.
Fixed: HTML5 Canvas under [Portfolio > Add New] now supports external URLs.
=== 1.9.0.1 (12 December 2012, 11:11 CET) ===
Fixed: "About" Admin Panel page style is not nice since WP3.5.
=== v1.9 (11 December 2012, 16:34 CET) ===
Added: Styling Tool.
Added: Clean Database & Restore Demo Settings Buttons.
Added: Auto-Update Module.
Improved: Simpler and clearer installation.
=== v1.9-alpha2 (20 November 2012, 01:20AM CET) ===
Fixed: foreach() warning when saving post or page (since 1.9-alpha1).
Added: Slideshow autoplay option.
Added: Slideshow mousewheel enable/disable.
Added: Compression for JS files.
=== v1.9-alpha1 (14 November 2012, 5:15AM CET) ===
Fixed: Empty portfolio categories will now show up on "Exclude Categories" lists.
Fixed: Welcome text is not obligatory for "slideshow" to appear.
Added: CSS3 drop-down menus instead of JS ones.
Added: Multiple drop-down menu levels.
Added: CSS merger and compressor for theme modules.
Added: SEO options for posts and pages.
Added: Posts can have sidebars now.
Added: Shortcode to insert sidebar directly into post.
Added: Unlimited footer columns support.
Added: Sidebar/footer per-page basis.
Added: Completely new [Appearance > Sidebars] with unlimited sidebars.
Added: Basic "utilities" section to [Daisho > About].
Added: SVG logos support.
Added: Search widget.
Added: Comments to pages.
Improved: Documentation is simplified but has more sections and details now.
Improved: The theme is now 40% lighter!
Improved: The theme loads up to 30% faster now!
Improved: Style of widgets has been unified.
Improved: New look of footer + new and optimized code for footer widgets.
Improved: Light SVG filter for "Our Team" instead of JS to grey out images.
Removed: Dribbble feed, Dribbble widget, coming soon page.
Removed: A lot of heavy Javascript (replaced with CSS3 where possible).
It's a major update that affected many files. We re-created a lot of modules
to deliver more functions and better and faster framework. Version 1.9 is
still under development but you can install and test it right now (it should be
mostly stable - demo uses this version and it's stable).
=== v1.8.1 (22 September 2012, 16:30 CET) ===
Fixed: External link thumbnails were turning grey since v1.8
Improved: Plugin Compatibility
Improved: Shortcode Styles
=== v1.8 (18 September 2012, 18:00 CET) ===
Fixed: "Back" button now restores correct URL for everyone
Fixed: Responsive image scaling on pages
Added: Date, Client, Agency can contain HTML and links now
Added: Shortcodes - Part III
* Accordion
* Forms with basic HTML form elements styled
* New Toggles with separators
* New Boxed Toggles
* New symbols for Toggles
* Quotes, Cite, Q, Figure, Figcaption
Added: Welcome text allows HTML tags (links etc.) but not shortcodes
Added: Page descriptions allow HTML tags (links etc.) but not shortcodes
Added: Welcome Page after theme activation
Added: Admin Panel Toolbar with useful links
Added: Custom Code field for SuperSlide Editor
Added: SoundCloud support for SuperSlide Editor
Added: Exclude portfolio categories from Front Page.
Added: Project Description allows new lines, HTML tags, special
characters and some shortcodes
Changed: New Contact Form Structure + Improved Style
Improved: Revampled shortcode styles (tabs, toggles, tables, quotes)
History Changelog available for purchasers: http://bit.ly/PYjWQU
=== v1.0 (30 June 2012) ===
Daisho has been released.
Credits
Daisho was developed by Anthony Jones (concept and design) and Flow (code).
Big thanks to all great designers who provided preview content for Daisho : Guilherme Villar , SUPREMATIKA , Anthony Jones , Pavel Pavlov , Vanessa Gong , Kostadin Kostadinov , Sergey Shapiro , Shaun Moynihan , Nicola Felaco .
Other Works
Daisho - Flexible WordPress Portfolio Theme; Konzept - Fullscreen Portfolio WordPress Theme; Essence - Blog and Portfolio WordPress Theme; Sparky - Creative Blog & Portfolio WordPress Theme.
Keywords: agency, creative, gallery, html5, ipad, iphone, minimal, modern, photo, portfolio, professional, responsive, slideshow, studio, video.
Premium ThemeForest Daisho Flexible WordPress Portfolio Theme 2585124 WordPress Themes, Website Templates, Mobile Themes, Flash Templates & Scripts from creative professional designers. Full details of ThemeForest Daisho Flexible WordPress Portfolio Theme 2585124 for digital design and education. ThemeForest Daisho Flexible WordPress Portfolio Theme 2585124 desigen style information or anything related.
Comments:
Tags Cloud
Android
,
Builder
,
Business
,
Clean
,
Corporate
,
Creative
,
Design
,
Ecommerce
,
Email
,
Fashion
,
Gallery
,
Image
,
Iphone
,
Jquery
,
Landing
,
Magazine
,
Magento
,
Marketing
,
Minimal
,
Mobile
,
Modern
,
Multi
,
Multipurpose
,
Online
,
Parallax
,
Personal
,
Photography
,
Plugin
,
Portfolio
,
Product
,
Responsive
,
Simple
,
Slider
,
Social
,
Store
,
Template
,
Theme
,
Video
,
Woocommerce
,
Wordpress
Show all tags